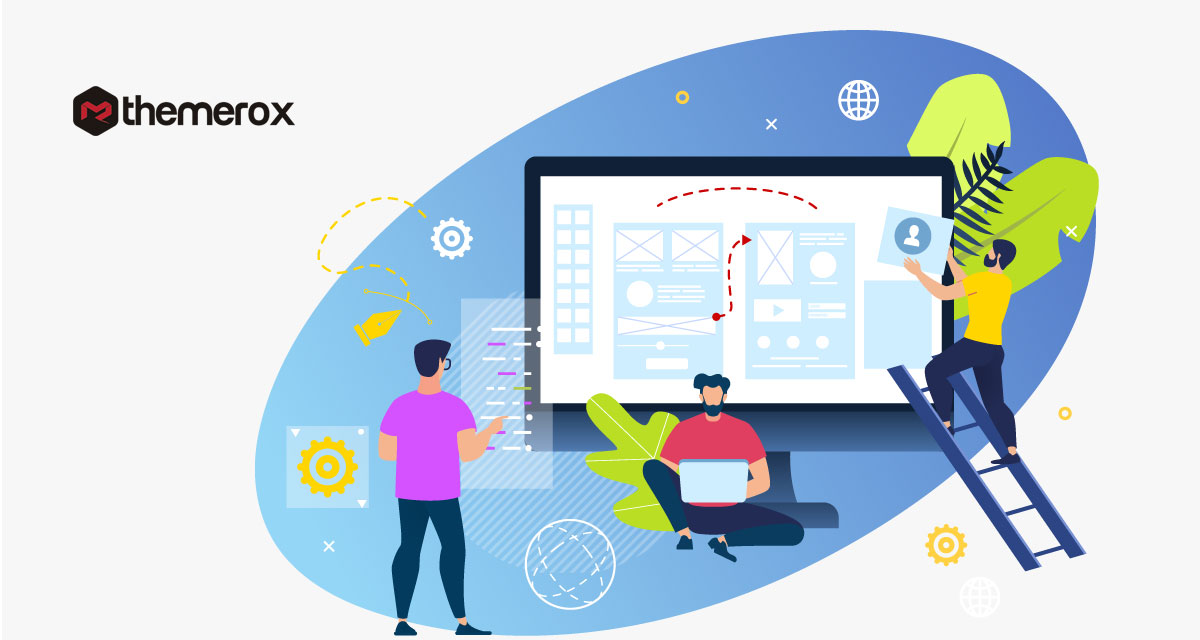 Are you looking for the best WordPress Custom Fields Plugins for your website?
Custom field plugins will help you to add extra data and information to your pages, posts and articles. It can increase functionalities of your WordPress website. You can easily organized your content professionally with the help of custom field plugin.
You can also manage your content of your website very easily as it makes your content management more flexible. You can edit and update any data and information quickly with easy access. There are many custom field plugins available for WordPress.
Here in this article we will show you some of the best WordPress Custom Fields Plugins.
Best WordPress Custom Fields Plugins
Advanced Custom Fields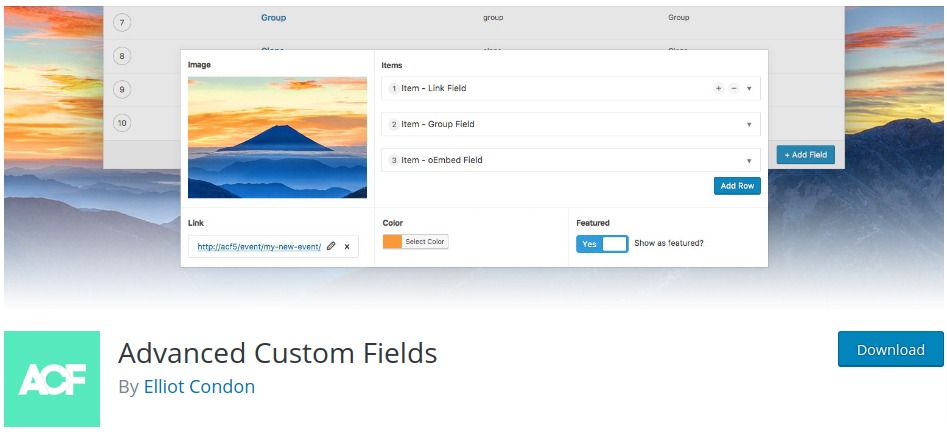 It help you to add extra features and functionalities to your edit screen. It is one of the best custom field plugins available with more than 1 million plus download. It will give you all the features you need. It's more flexible and you can easily edit any content and data loading will be very fast. So you don'n face any hassle to load your data.
Features:
Simple and easy
Flexible
Powerful features
More than 30 fields type
Easy customization
Meta Box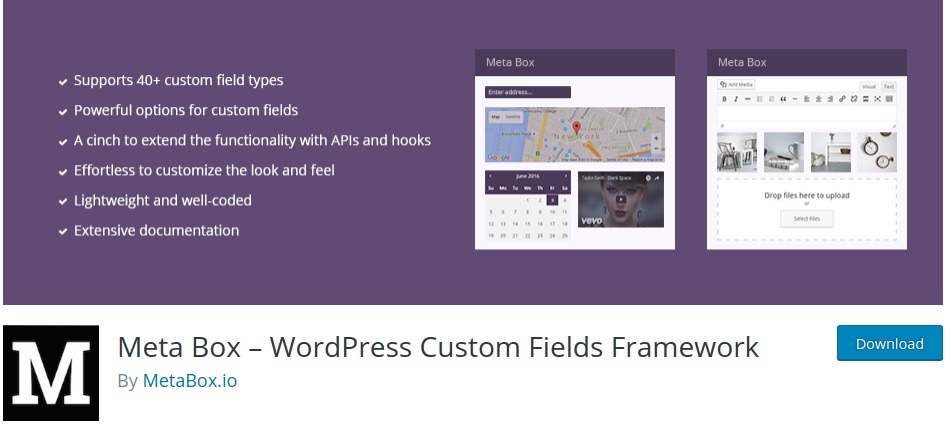 Meta Box is another powerful, flexible and lightweight plugin which enable you to create unique meta boxes and custom field for your WordPress post type. With this field you can add custom field in post. pages, forms, post types or anywhere in your website.
It's very user friendly and everything will be in your control. Adding WordPress custom fields and custom meta boxes for custom post types is quick and painless with the Meta Box plugin. You just need to select the field types you want in the user-friendly Online Generator, then copy and paste the code into your child theme's functions.php file.\
Features: 
Custom Post types
Various fields types and options
Developer friendly
Extensions
Detailed documentation
Custom Field Suite
Another easy to use , flexible, powerful and customizable WordPress custom field plugin with more than 40K download. It offers you many fields type like –
Text
Text area
WYSIWYG
Date
Color
True/False
Select
File upload
Relationship
Term
Users
Loop
Hyper link
Tab
All of these fields type provide you all you need to create and customize fields type to your website. The plugin is fully open source and the developer will not add any extra data types for this plugin.
Pods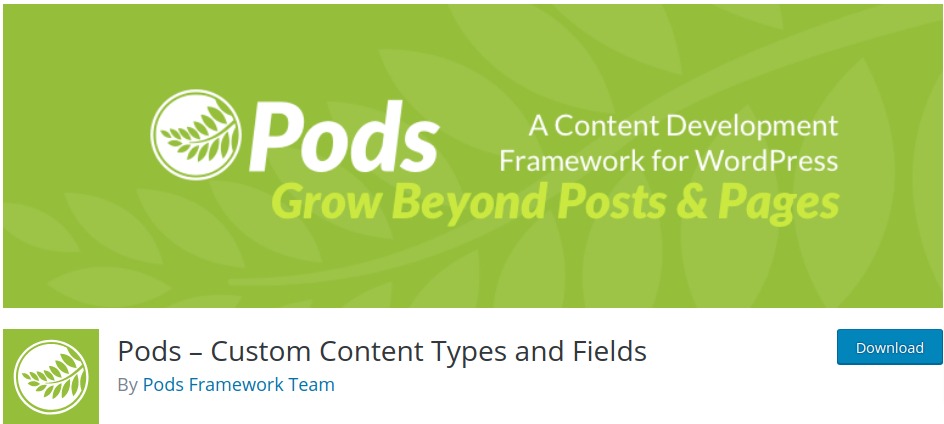 Pods can manage all your content and data type very professionally. With pods you can do a lot more things like –
Create content type
Extend and customize content
Create custom settings page
Add custom fields
Create connection
It offers so much advance features but for beginners it's not a perfect choice as it offers many complex features to handle. It provide a well documentation so you can find anything easily.
Features:
Roles and capabilities
Templates
Advance relationship
Advance content types
Table storage
Markdown syntax
Pages
Carbon Fields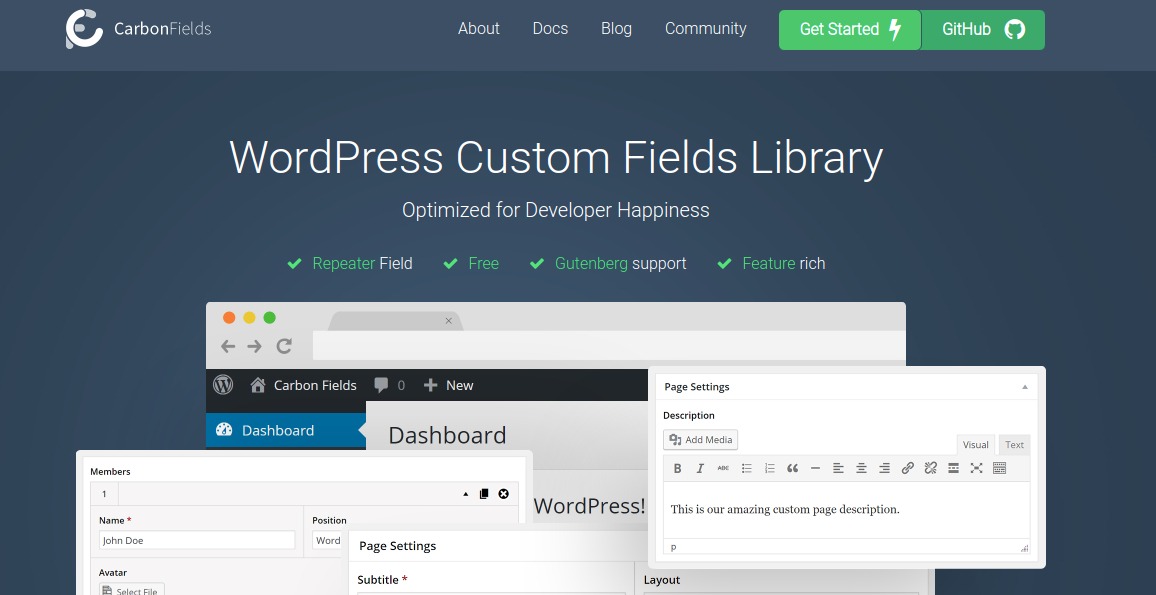 Carbon Fields plugin can add post types, options, taxonomies, users, navigation menus ad custom widgets. It also Gutenberg supported so without any coding you can customize your fields. It is easy for the developers to edit as their own. It's very flexible and you can use it for free.