Blogey is a Personal Blog & Magazine WordPress Theme which helps you to build premium looking websites. Blogey has different multiple demos which could be a great choice for you if you want to create your own blog or magazine website. It's very simple and lightweight with modern and beautiful design and layout. Here we will explore the main features of this theme and find out why this is the best choice for you. 
Blogey Theme Features
BLOGEY theme fully based on default WordPress layout with some additional plugin and Redux option panel.Blogey have 10 Demos with multiple content layout option so you can select or change layout to avoid boringnes among your visitors. Blogey comes with 5 custom and dedicated plugins to offer you important industry specific tools and functionalities.
10 Multiple demos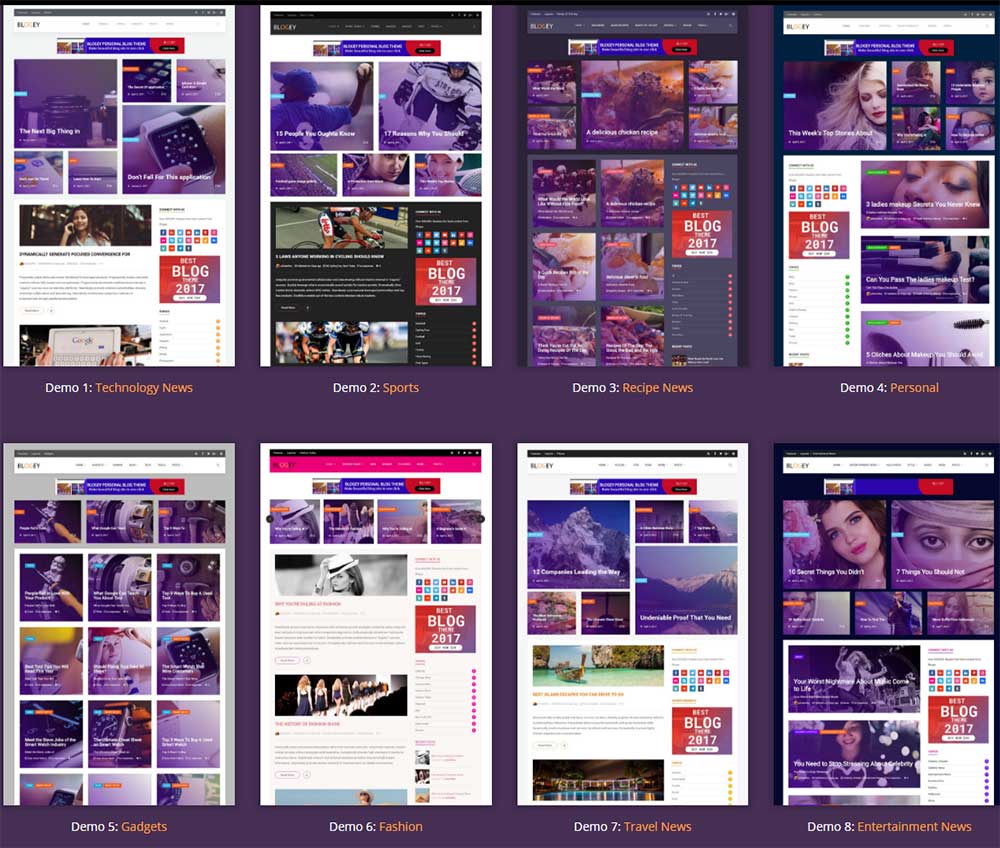 This 10 multiple demos helps you to make as many as possible blog or magazine WordPress theme by using Blogey .Each demo has different design and layout for different  purposes.
Blogey Technology News Demo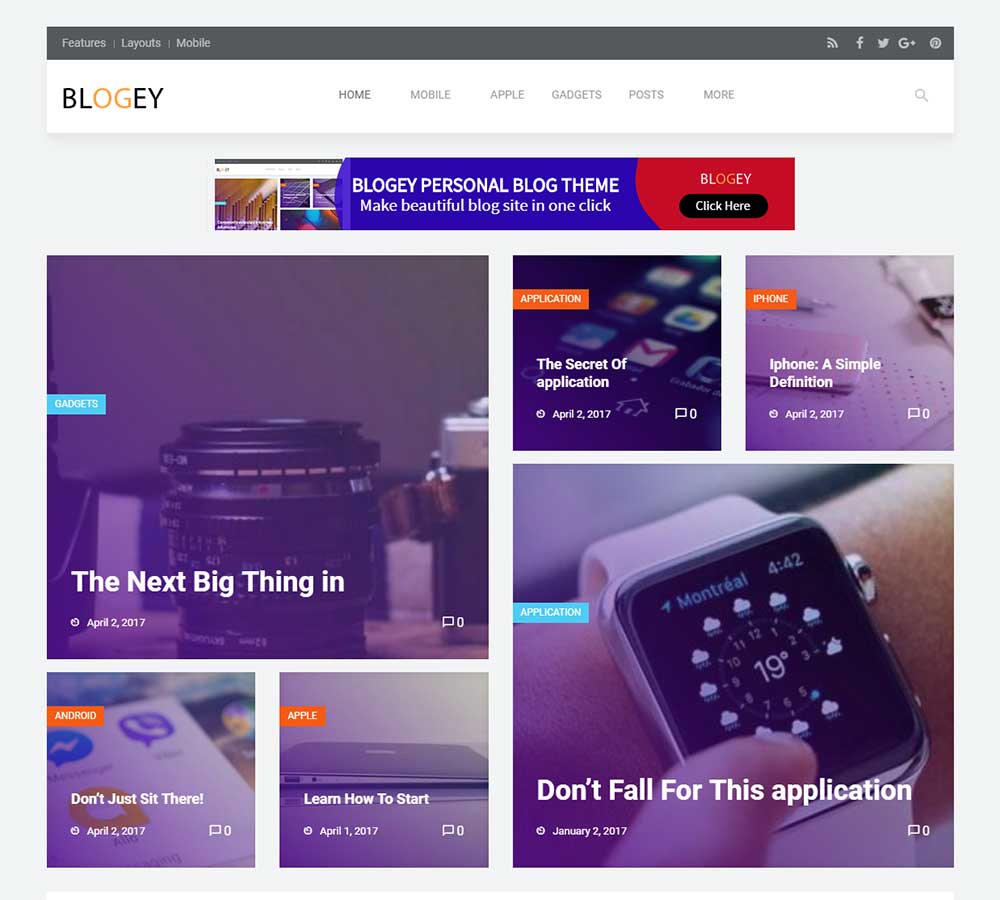 Blogey Technology News Demo will be the best choice for you if you want to build an online news portal.This demo gives you a stylish and professional look for your website.The design gives your readers a plenty of opportunists  to find their desire conten.
Blogey Sports Demo
If you want to give your sports related website a fresh look then you can choose Blogey Sports Theme without any hesitation.The Layout of this demo makes it very easy to display all sports category in a very professional way.
Blogey Personal Demo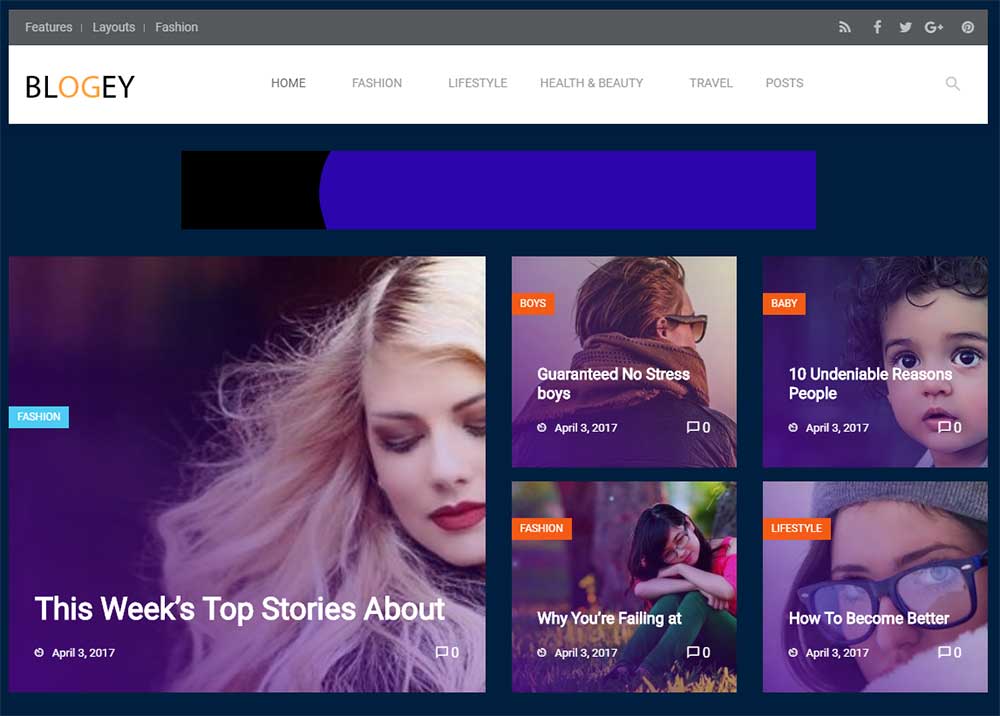 Now a days most of the people want to promote themselves  in online.The best way to promote yourself in online is having a personal website. Blogey Personal Demo gives you the opportunities to make your personal website looking professional and stylish to reach your goals.
Blogey Gadget Demo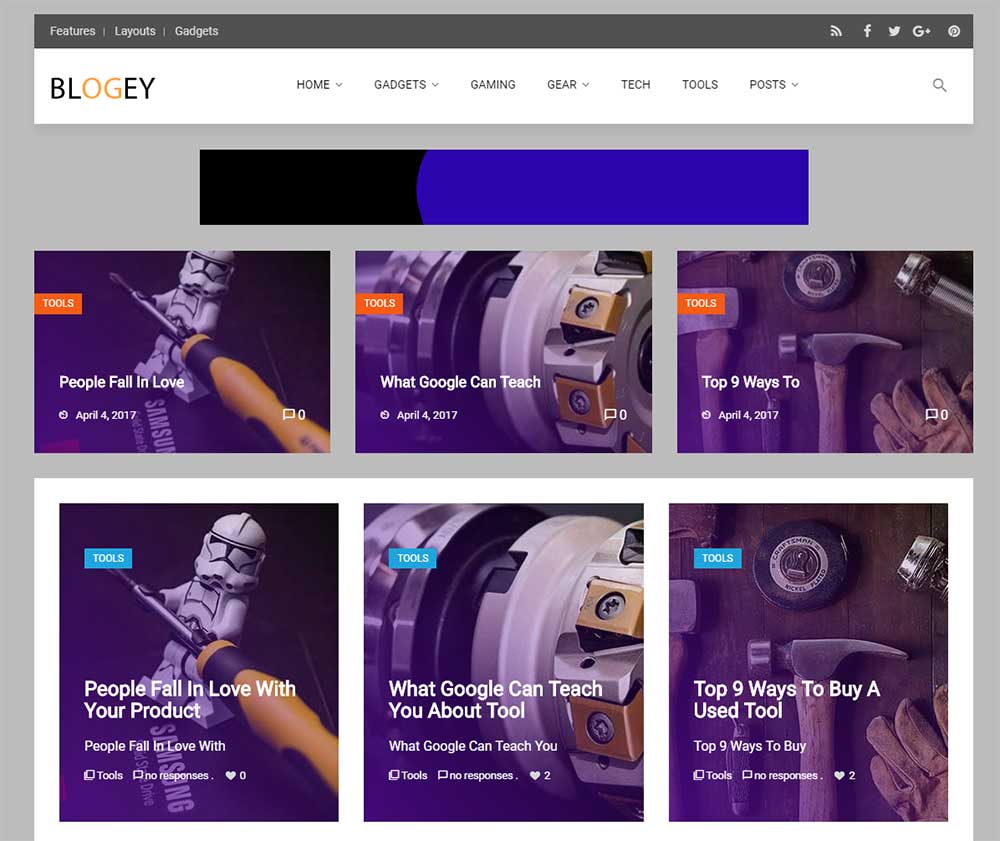 If you have a gadget shop or a website where you want to write about many different kinds of gadgets then Blogey is a perfect choice for you.This demo has a very unique layout as well as the design. It provides you with easy ways to publish articles and display it very stylishly.
Blogey Fashion Demo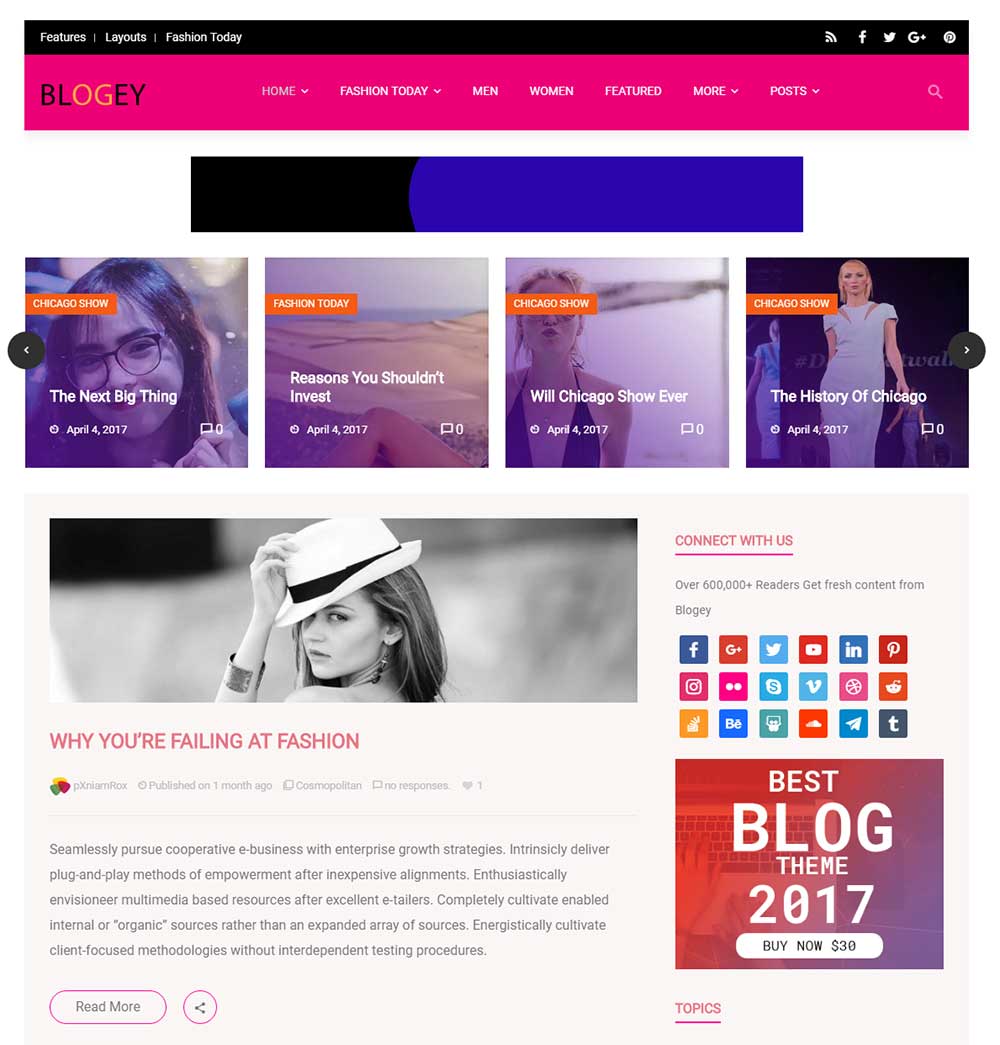 The Fashion Demo has a very unique design which will appeal the forward thinking of fashion sectors.Like others demo of  Blogey it is also very user friendly ad highly customizable. In Homepage you can display plenty of information about your business in a very organize way.
Page Templates and Layouts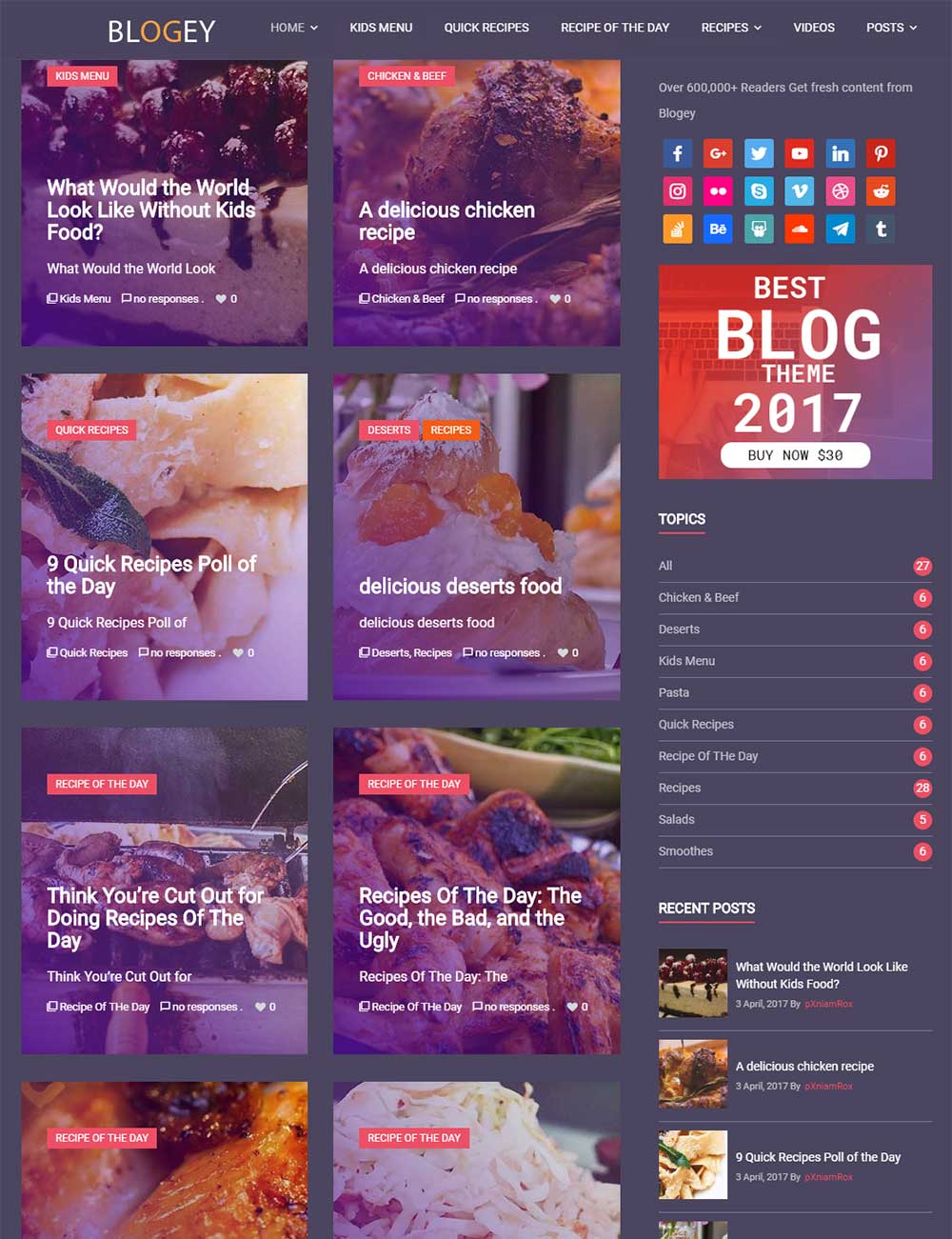 Blogey's page template selection is very professional.You can use the standard page template for your desire demo version. Blogey gives you the opportunities to place your add very smoothly and responsively in your website.
Theme Options
BLOGEY theme fully based on default WordPress layout with some additional plugin and Redux option panel. Its fully powered by default WordPress power. It supported Visual Composer but its not recomonded to use.All pages and layout made by default so you dont't need to make it heavy by supporting 3rd party plugin.
Visual Composer gives you more control in your website and through it you can easily custoize your website by drag and drop the layout.You can also use this awesome page builder for custom design.
One Click Demo Importer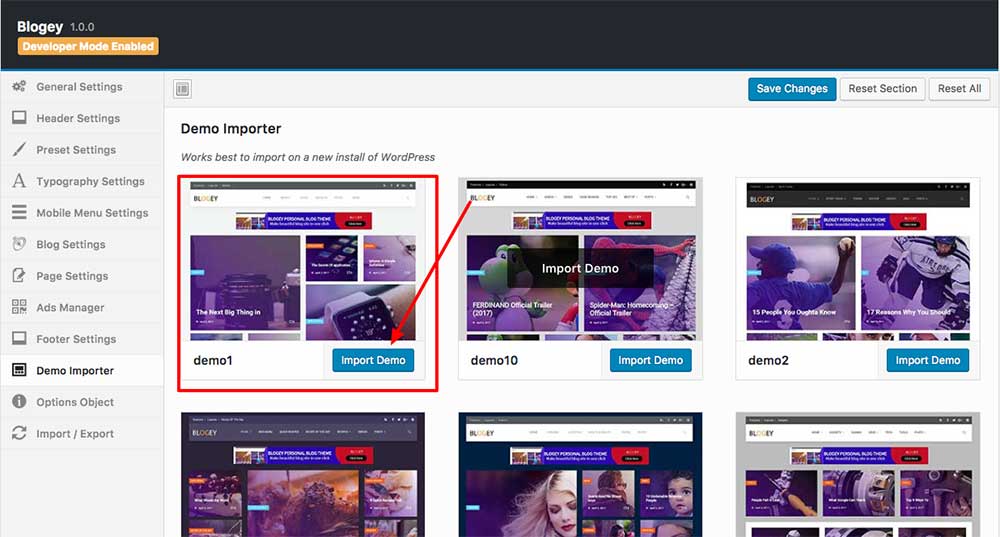 Blogey comes with complete demo content,many pages you can useand with lots of different views.With one click demo installer you will get your website ready in minutes.
Others Features 
Clean Responsive Design.
Elegant Customisable Layouts.
10 Unique Blog Layout Demos.
SEO Optimized HTML Code
One Click Easy Installer.
5 Default Layout For Hero Blog.
Custom Social Share Plugin
Custom Related Post Plugin.
Custom Ad Management Plugin
Easy To Use
Ready To Be Translated
Final Thoughts
Blogey is a well presented and very lightweight WordPress theme with a different look and design.If you buy this theme you will get a good product with a lots of features,functionalities and tools.
If you like blogey don't forget to watch the demo there are some quality design are waiting for you which will be the best choice for your project,