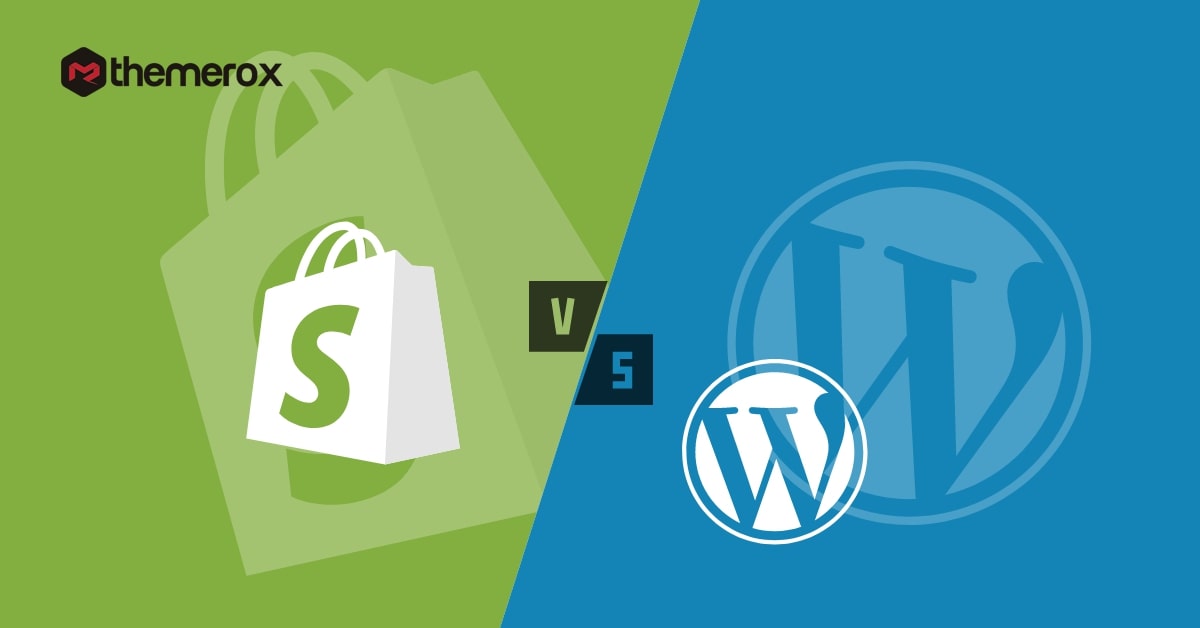 Are you wondering which platform is best for your eCommerce website WordPress vs Shopify? Don't worry here in this article we will clear out all of your confusion. You will be able to decide which platform you should use to grow your eCommerce website.
For a small online business, a website plays a very important role. If you want to succeed in your business you need to use your website at its best. You need to run your website on a flexible platform so that you can get everything you need easily to run your shop.
For an eCommerce platform, WordPress and Shopify are the first two choices for most users. WordPress is popular for its powerful administrative features on the other hand Shopify is getting popularity for its flexibility.
eCommerce business is the fastest-growing business in this present time and most of the companies want their own way to manage their website. For small and medium business owners, Shopify is popular but WordPress is becoming a hobbyist platform day by day. 
The main focus of these two platforms is the same and there are many features similarity between Shopify and WordPress. But with similarity, there are also many big differences too that are worth considering to choose one.
WordPress vs Shopify: Which platform is better for eCommerce?
WordPress
At present WordPress is the most popular content management system available. Nowadays most users are choosing WordPress for their website and there are 64 million websites available powered by WordPress. So you can easily imagine the popularity of this content management system. 
When you are selecting WordPress as your e-commerce business platform you need to consider something. First, you need to find out what you need and how you offer services to your customers through your website. If you need a customized online shop with your own setting and system then WordPress is the best choice for you. WordPress lets you customize everything you need to run your online shop. 
Besides WordPress is an open-source platform and you will find thousands of free plugins to enhance your website features and functionalities. You can customize your frontend and backend easily with WordPress.
Advantages
WordPress is used by millions of users and websites like Wikipedia are also using WordPress. WordPress developers are easily available and the cost of hiring a developer is also very low. There are thousands of resources and tutorials are available. It will help you to solve any of the common WordPress errors or issues. You don't need to hire a developer to solve WordPress errors.
WordPress is free and we already mentioned there are thousands of plugins available. With the help of those plugins, you can manage your order, sales, inventory, content, social media post, and a lot more things.
Shopify
Shopify is a user-friendly and flexible platform for eCommerce businesses. Your website platform can help you a lot to grow your sales and business. Shopify offers you many features and functionalities to manage your online shop day to day activities. Shopify converts a website into a storefront that allows users to apply for and win official product and brand listings
Advantages 
Shopify offers professional website development features for your online shop. Managing your online shop with Shopify is easy and flexible. Shopify also offers you WordPress-specific plugins to build a WordPress site on top of Shopify's hosting platform.  Shopify is the perfect choice for a medium or small-level eCommerce website.
Wrapping Up
If you are a small or mid-level online shop owner then Shopify is the best choice for you as it offers an easy and flexible interface to work. And for the mid-level shop, you don't need advanced customization. But if you have a large online shop and want to implement your custom features then WordPress should be the best choice for you.
We hope this article will help you. You can see our other articles to learn Things to know before getting a PSD to WordPress conversion service
Benefits of a PSD to WordPress conversion
If you like this article please like our Facebook Page to stay connected.