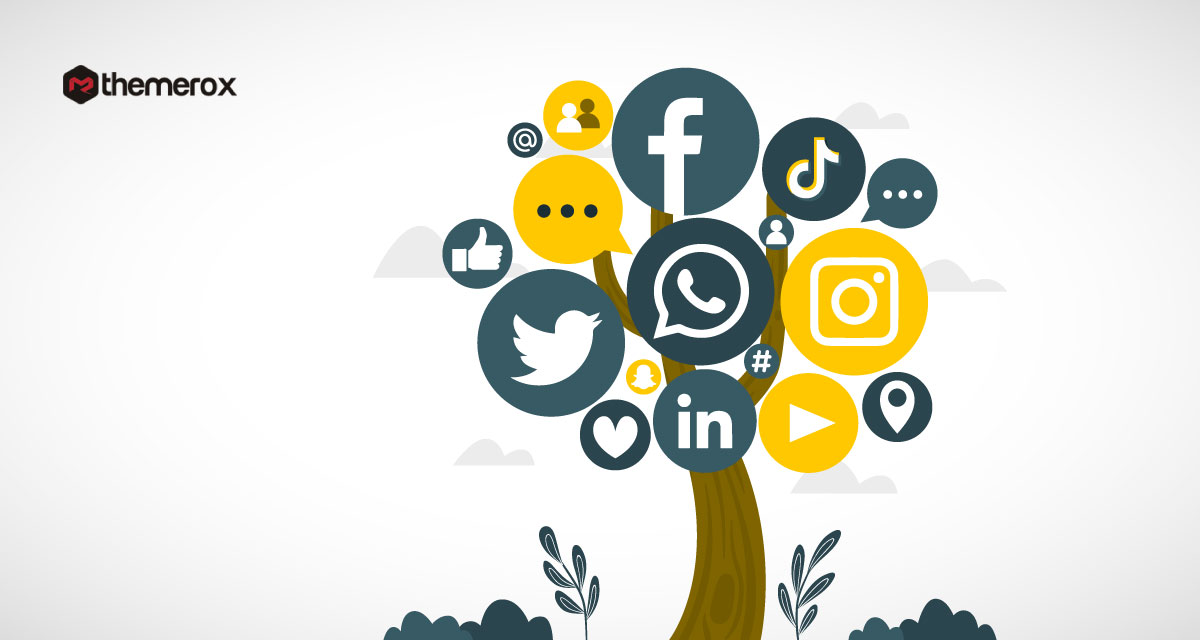 Do you want to use the best WordPress Social Media Plugins for your website?
Social media plugins is very useful for any WordPress website to share any content or embed social media with website. It is very difficult for new website owner to choose the best social media plugin according to their plan. A lots of social media plugins available which makes the confusion to chose the perfect one for you.
Here in this article we will discuss about some of the best WordPress social media plugins and about their pros and cons so that you can make decision to choose the best one.
Things to understand before install WordPress social media plugin
Most of the social media plugin requires additional scripts and stylesheets . Plugin needs to load that stylesheets and script which makes the website load time longer. A longer load will effect the performance of your website. So before installing any social media plugin you need to think about your performance.
A plugin may have many features but you need to think is all the features necessary for you or not. If the features slow down your website then you need to rethink about the plugin. You need to make a balance between features and performance.
After that you need to think about the purpose of your plugin. Different plugins will offer you different features so at first make your focus and then choose the plugins. Less features and option will increase the performance and user experience.
Best Social Media Plugin for WordPress
MashShare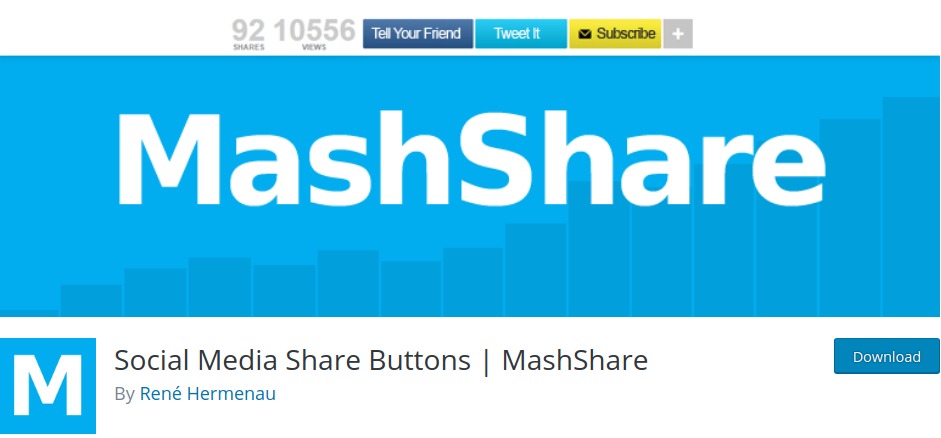 MashShare plugin will enable you to share your content with different social media platform. With just one click your users can share any content with theirs friends and family from your website. This plugin is highly customizable and very easy to use.
The best part of this plugin is that it's not require any additional scripts. Without any additional scripts it can create share button for your website's content. Not having an additional script this plugin will not have any effect on your website performance.
Features:
Easy to use social media share buttons
Highly performance
High resolution lossless vector fonts icon
Display total share count
Shortcode
Developer friendly
Highly customizable
Add-ons
Smash Balloon Social Photo Feed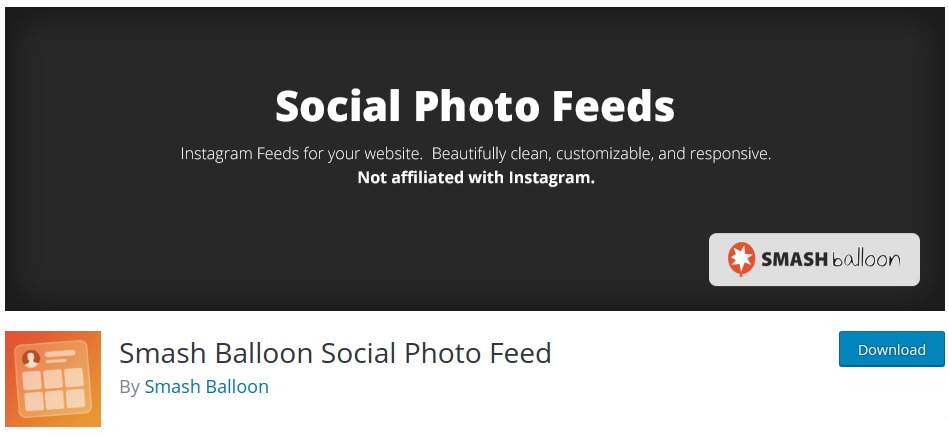 If you want to display your Instagram feed in your website then the Smash Balloon Social Photo Feed plugin is the perfect choice for you. It will enable you to display your Instagram feed to your website from your Instagram account.
Setting up this plugin with your Instagram account is very easy. You need a access token to connect your Instagram with this plugin and enable you to show connected Instagram account photos in your WordPress website. You can connect multiple Instagram account or create multiple feed using the shortcode.
Features:
Simple setup
Fully customizable
Fully responsive
Multiple account support
Shortcode and photo size options
Social Media Auto Publish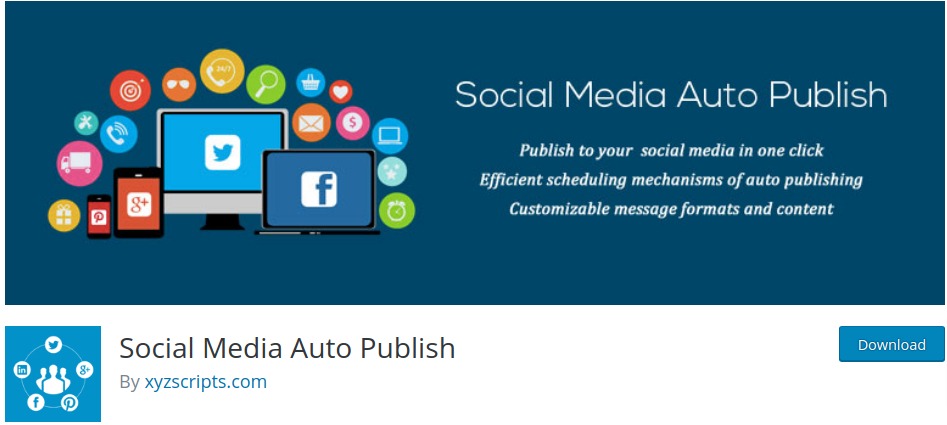 This free plugin enable you to publish your website blog content to your social media automatically. It has filtering and category option so you can easily categorized your content to publish on social media. You can publish your post on Facebook, Instagram, LinkedIn and all other social platform.
Sassy Social Share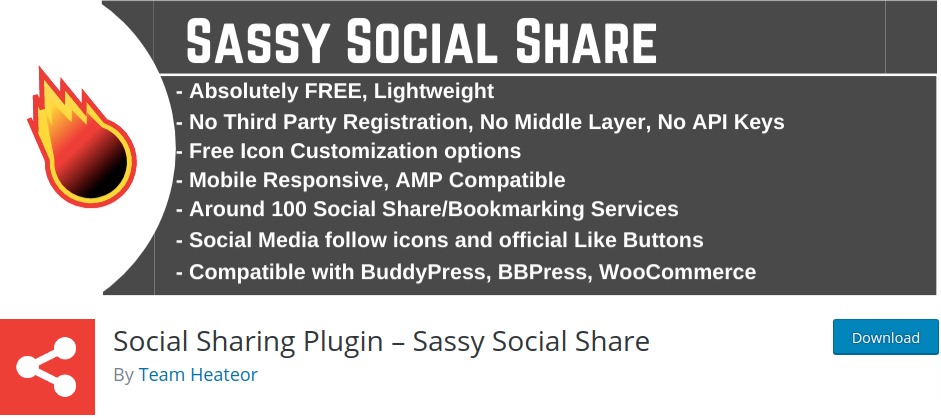 This plugin supports more than 100 social media platform to share your website blog and content. It's very customizable and easy to use. You can easily implement it with your website. It also offer you to count the share numbers.
You can add many different and unique icon for social share button. For the buttons you can choose from rounded, rectangular or square button.
Features:
GDPR Complaint
Gutenberg support
Icon shape
Url Shortening Service integration
Responsive
Compatible with AMP
Widgets and shortcode
Multi-site compatible
OnePress Social Locker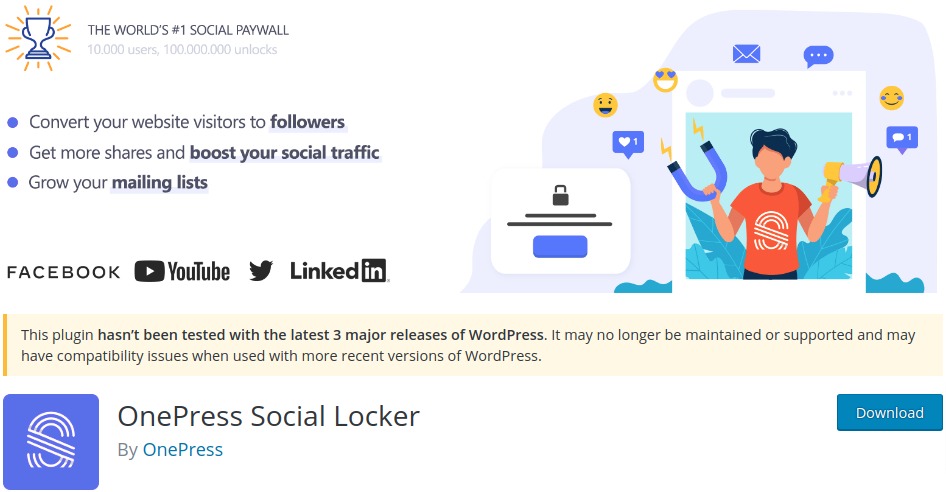 OnePress Social Locker plugin helps you to lock your content for some specific condition. Until the users full fill the condition they won't be able to view the content. For example you you can set the condition to like your page or share the article. If the user like your page or share the article they will be able to view the content.
Features:
SEO friendly
Social button
Advance analytics
Fast loading
Developer friendly
Mobile optimized
WordPress to Buffer
WordPress to Buffer plugin helps you to schedule your post to publish on social media. This plugin will automatically add post in your buffer account and publish it in your connected social account following the time schedule.
Features:
Dynamic status tags
Separate social media option
Shortcode support
Advance scheduling
Image control
Conditional publishing
Bulk publish option
WooCommerce support